Extremities
Top Stories
OrthoSolutions Introduces the Evidence-Based VolitionTM Ankle Fracture Plating System Featuring V-Lock TM Technology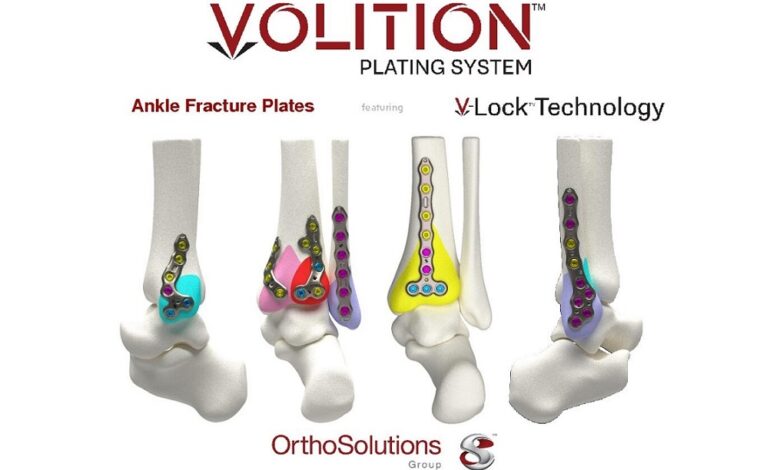 September 22, 2021 /OrthoSpineNews/
OrthoSolutions is thrilled to announce the full commencement of its proprietary VolitionTM Ankle Fracture Plating System in both the United States and the United Kingdom.
Professor Lyndon Mason and Mr. Andrew Molloy from the Liverpool University Hospitals NHS Foundation Trust in the UK helped in the development of the evidence-based VolitionTM Ankle Fracture Plating System. The fracture specific plates were designed in accordance with the Mason & Molloy classification and are set to change the landscape in dealing with Type IIA, IIB and III posterior tibial fractures as well as the classic uni- and bi-malleolar fractures.
Alongside Professor Mason and Mr. Molloy, the VolitionTM Ankle Fracture System was also designed in conjunction with Samuel B. Adams, MD of Duke University, Pedro E. Cosculluela, MD of Houston Methodist, Asst. Professor Sean T. Grambart, DPM of Des Moines University and David B. Thordarson, MD of Cedars Sinai.
To learn more about OrthoSolutions, VolitionTM Plating, and V-LockTM Technology please visit us @ www.orthosol.com, or stop by booth #627 this week in Charlotte, NC during AOFAS.
About OrthoSolutions Holdings
Established out of the UK in 2001, OrthoSolutions primary focus is to better serve the needs of the global foot and ankle clinicians through a valued collaboration from various backgrounds. Designing and developing innovative foot and ankle products using this inclusive partnership approach means that the end goal of optimizing patient outcomes and helping them 'get back on their feet' is at the core of everything we do. The evidence-based VolitionTM Ankle Fracture Plating System featuring V-Lock TM Technologyclearly demonstrates this process.
Contact:
Dustin Ducharme, US GM & Global Development Director
dustin.ducharme@orthosol.com