Recon
Sports Medicine
Top Stories
Top Knee Surgeon and Sports Medicine Specialist, Richard Cunningham, MD Completes First BEAR® ACL Procedure in Colorado's Eagle County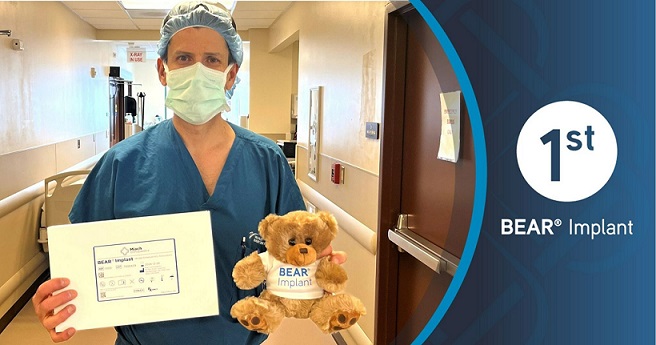 EDWARDS, Colo., Jan. 20, 2023 /PRNewswire/ — Richard Cunningham, MD, a top knee and shoulder specialist at Vail-Summit Orthopaedics & Neurosurgery (VSON), is the first orthopedic surgeon in Colorado's Vail Valley to complete the new Bridge-Enhanced ACL Restoration® (BEAR®) technique. With over 20 years of experience, Dr. Cunningham has performed thousands of ACL reconstructions, and many primary ACL repairs. A primary ACL repair saves the native ACL instead of removing and reconstructing the ACL with a graft. This is the first time Dr. Cunningham has done an ACL repair augmented with the BEAR® implant. This advancement in surgical technology may provide an improvement in patient outcomes for primary ACL repairs.
Dr. Cunningham and his team have successfully completed the BEAR® ACL repair procedure on a patient at Vail Valley Surgical Center in Edwards, Colorado. The patient was an ideal candidate for the BEAR® procedure as the tear had occurred recently and was torn close to the bone attachment on the femur. Dr. Cunningham states, "In the past, the biggest barrier to ACL repair was the poor blood supply and lack of a healing scaffold to allow the patient's native ACL to heal. With newer micro-surgical instruments and implants, a torn ACL can more frequently be saved and repaired instead of removed and reconstructed with a tendon graft."
The Federal Drug Administration's (FDA) recently approved the Bridge-Enhanced ACL Restoration® (BEAR®) technique. The BEAR® Restoration technology utilizes a bovine collagen implant inserted into the ACL repair site that provides a scaffold to allow the body's healing cells to migrate and attach to promote healing of the torn ACL. This advanced technology may make it possible to repair tears not previously repairable, leading to shorter recovery times, and more normal joint biomechanics.
About Richard Cunningham, MD
Dr. Cunningham is Vail-Summit Orthopaedics & Neurosurgery's longest tenured orthopedic surgeon. Formerly the Chief of Surgery at the Vail Valley Medical Center, he was recognized by his colleagues with the Clinical Excellence Award. He is known for his passion in utilizing proven, advanced technologies. Compassionate care is defined by his commitment to optimizing patient outcomes.
CONTACT: Jill Lau, jill@jrldigitalmedia.com
SOURCE JRL Digital Media