Spine
Top Stories
PrecisionOS Virtual Reality Training Module Awarded Best New Spine Technology Product by Orthopedics This Week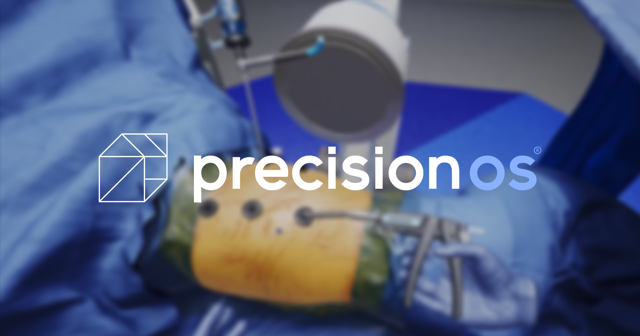 Honor Highlights Stature as Leading Provider of VR Training Modules for Orthopedic Surgery
VANCOUVER, British Columbia—Sept. 28, 2021/ OrthoSpineNews/—PrecisionOS was named Best Spine Technology in Orthopedics This Week's annual award program, which recognizes exemplary and innovative spine surgery products and the engineering teams and inventors that create them. The prestigious award recognized the company's virtual reality (VR) training module for the Zimmer Biomet Tether Spine procedure. It will be presented during the North American Spine Society (NASS) annual meeting, held this year September 29-October 2 in Boston, Massachusetts.
"We are extremely honored that PrecisionOS has been recognized for our advanced VR simulation letting surgeons practice the complexity of vertebral body tethering," said Danny Goel, M.D., surgeon and CEO, PrecisionOS. "This procedure offers a minimally invasive alternative to a posterior spinal fusion for scoliosis patients. Given the highly technical procedure in this patient population, the development of effective training was extremely important. This award validates the expertise of our team who worked exceptionally hard to develop this training module."
Bringing the PrecisionOS tether system module to fruition was a collaborative effort performed by Nhu Nguyen, Frank Lueck, Simon van del Lagemaat, Kevin Chorney, Colin O'Connor, Cale Werake, Thoufeeq Ahmed, Marie Lamouret, Rob Oliveira and Danny Goel, PrecisionOS.
PrecisionOS worked closely with the surgeon who developed the novel procedure used with Zimmer Biomet's treatment for adolescent scoliosis. It is a combination of both thoracoscopy (scope in the chest) and vertebral body tethering (VBT). This procedure allows the spine to bend and flex, rather than spinal fusion, where the spine is fixed in place with metal rods and screws. The PrecisionOS training software simulates the experience of using the Tether system in virtual reality (VR), allowing practitioners and students to learn to correct the deformity, understand when they make mistakes and face other critical decisions that might arise during real surgery.
The award program, now in its 13th year, recognizes novel technologies. Award submissions are reviewed by a panel of highly accomplished surgeon judges. This group assesses the applications according to originality, clinical relevance, clinical problem solving, likelihood of improving patient outcomes and cost effectiveness.
About PrecisionOS
PrecisionOS was founded in partnership with clinical orthopedic surgeon educators and an expert group of XR (virtual reality, augmented reality and mixed reality) senior software developers to create training for orthopedic surgeons. The company's immersive simulations are scientifically validated, peer-reviewed and published in leading medical research journals. Participants engage in a realistic operating environment, alone or in collaboration with other trainees anywhere in the world, test their knowledge and desire to try alternate approaches, receive instructive feedback and repeat procedures until achieving proficiency.
PrecisionOS is based in Vancouver, BC, with collaborative affiliations with more than 40 major medical institutions in the U.S., Canada. Its software has been used in more than 35 countries and 500 cities worldwide.
About Zimmer Biomet
Zimmer Biomet is a global medical technology leader with a comprehensive portfolio designed to maximize mobility and improve health. We seamlessly transform the patient experience through our innovative products and suite of integrated digital and robotic technologies that leverage data, data analytics and artificial intelligence.
With 90+ years of trusted leadership and proven expertise, Zimmer Biomet is positioned to deliver the highest quality solutions to patients and providers. Our legacy continues to come to life today through our progressive culture of evolution and innovation.
For more information about our product portfolio, our operations in 25+ countries and sales in 100+ countries or about joining our team, visit www.zimmerbiomet.com or follow Zimmer Biomet on Twitter at www.twitter.com/zimmerbiomet.
Media Contact:
Elaine Murphy; 818.613.1951; emurphypr@aol.com
###