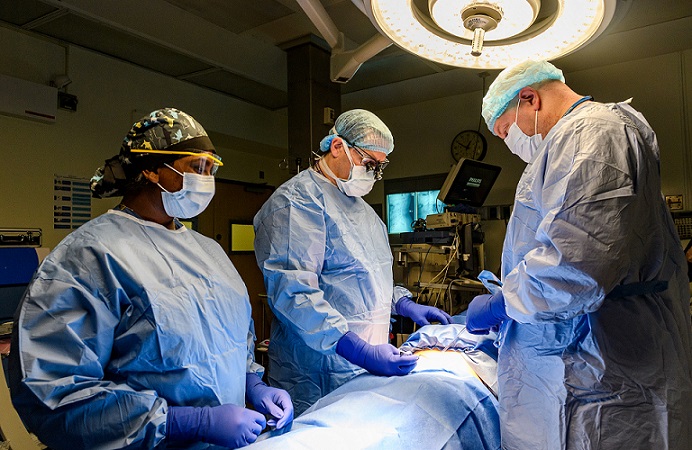 Long Island Jewish Medical Center, LIJ Valley Stream and North Shore University Hospital among five hospitals nationally to earn elite Joint Commission advanced spine certification
May 17, 2022
NEW HYDE PARK, N.Y. –(BUSINESS WIRE)– Three Northwell Health hospitals have been named Advanced Spine Centers of Excellence by The Joint Commission, the only such programs in New York State to earn the prestigious designation. They are among just five facilities nationwide recognized by The Joint Commission, a nonprofit health care quality accreditation organization.
The orthopedic surgery and neurosurgery teams at Long Island Jewish (LIJ) Medical Center in New Hyde Park, LIJ Valley Stream and North Shore University Hospital (NSUH) in Manhasset each were certified as Advanced Spine Centers of Excellence. The three hospitals combine to perform more than 1,300 surgical spine cases each year, making them regional destinations for spine care.
"Institutionally, these hospitals have supported Northwell's vision for offering the highest quality of care while remaining forward thinking and innovative in spine technologies," said Nicholas Sgaglione, MD, senior vice president and executive director of Northwell Health Orthopaedic Institute and chair of orthopedics surgery at Northwell Health. "Operative surgical investments have been made in the fields of spine robotics and navigation which elevates these programs as leaders in the spine market."
Northwell Health, New York State's largest health system which includes hospitals and ambulatory surgery centers across Long Island, New York City and Westchester, handles more than 4,500 surgical spine cases annually. Procedures range from minimally invasive procedures and same-day surgery performed in outpatient centers to in-hospital complex surgeries performed on all types of spinal conditions.
"It really does take a village to properly care for a patient with spinal problem," said Daniel Sciubba, MD, MBA, senior vice president of neurosurgery at Northwell Health, chair of neurosurgery at NSUH and LIJ and co-director of Northwell's Institute for Neurology and Neurosurgery. "Our teams in place have therefore taken extraordinary efforts to create patient centricity for spinal care. In other words, the patients' needs and expectations must constantly be at the center of what we provide. In the process, patients and their families do better, and the providers receive the ultimate satisfaction in seeing them improve."
Northwell's Spine Program, which is a member of the National American Spine Registry, is supported by advanced technologies such as guided navigation and spine robotics. The combined orthopedic and neurosurgical spinal surgical team has the expertise to take care of any spinal condition.
"Our surgical spine program offers comprehensive patient care from start to finish," said Jeff Silber, MD, associate chair and chief of orthopedic spine surgery at LIJ Medical Center. "All patients undergoing surgery attend Northwell's pre-operative spine class, complete an in-hospital therapy program starting on the day of surgery, and continue post-operative care at either home or rehab with constant communication with the primary surgical team."
For more information or to make an appointment, call 844-88-SPINE or (844) 887-7463.
About Northwell Health
Northwell Health is New York State's largest health care provider and private employer, with 21 hospitals, 850 outpatient facilities and more than 12,000 affiliated physicians. We care for over two million people annually in the New York metro area and beyond, thanks to philanthropic support from our communities. Our 79,000 employees – 18,900 nurses and 4,900 employed doctors, including members of Northwell Health Physician Partners – are working to change health care for the better. We're making breakthroughs in medicine at the Feinstein Institutes for Medical Research. We're training the next generation of medical professionals at the visionary Donald and Barbara Zucker School of Medicine at Hofstra/Northwell and the Hofstra Northwell School of Nursing and Physician Assistant Studies. For information on our more than 100 medical specialties, visit Northwell.edu and follow us @NorthwellHealth on Facebook, Twitter, Instagram and LinkedIn.
Contacts
Jason Molinet
516-321-6705
jmolinet@northwell.edu